Bibliographical Information Service
The bibliographical information service provides thematically structured access to major new publications in the field of contemporary history. [More …]
Copies
Copies of books and newspapers can now only be carried out as scans.
There is a multifunctional system (coin-operated) in the Information Center to make other copies and to print from USB sticks.
Costs and Fee Regulations
Please consult the fee regulations for costs for copies, reproduction templates, etc.
Databases
The Database Infosystem (DBIS) provides access to selected online databases. [More …]
Directions
The Leibniz Institute for Contemporary History in Munich is easy to reach by public transportation. Please note that there is no free parking in the immediate vicinity.
Electronic Journals
The Elektronische Zeitschriftenbibliothek (Electronic Journals Library – EZB) provides access to electronic journals. [More …]
IfZ Berlin Reference Library
The IfZ's Berlin location contains a reference library with around 13,100 volumes, as listed in the online catalog of the IfZ library (call numbers with the location code "20/*". The collection is not available to the general public.
Information and Assistance
The library staff members are happy to provide information and assistance in person, by telephone, or in writing. [More …]
Information Center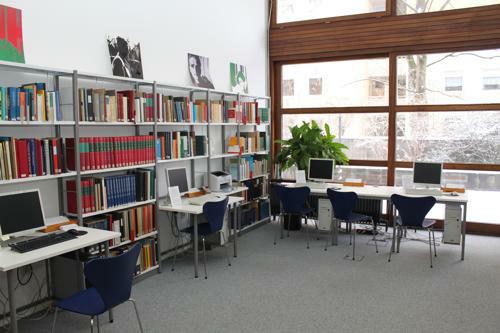 If you wish to use the IfZ library, the Information Center is the first place to go to register and receive a library card. Staff there can provide an initial first introduction to the use of the library and support you in your individual research.
Extensive informational materials, numerous reference works, three research PCs, and a multifunctional device are all available to assist you there. Copies and printouts are subject to a charge (coin-operated). In the future, printouts will only be possible using a USB stick. USB sticks can be purchased in Reading Room 1 if required.
Opening hours (weekdays):
Mondays – Fridays: 9am – 7pm

Library registration and assistance:
Mondays – Fridays: 9am – 12:30pm,
Mondays – Thursdays: 12:30pm – 5:00pm
Interlibrary Loans
The library is active in the interlibrary loan system. [More …]
Older Stock (including titles incorporated through 1995)
The entire inventory of the library is accessible via the online catalog, i.e. searches for known titles are possible at any time.
When searching for geographical terms (cities, countries, regions, German states), however, the following needs to be taken into consideration:
The older stock of literature from before 1995 is only partially searchable using geographical terms in the online catalog; only the literature on individual German cities and regions is fully indexed in terms of content.
Numerous geographic keywords can nevertheless be found for monographs in the online catalog, most of which have been added by other libraries. There are often no such keywords, however, for titles before 1970 and many articles.
The geographical card catalog on location at the IfZ is therefore best suited to comprehensive research. Users not on location can request the relevant information in writing.
For older stock holdings, the additional information for "era" and "local/regional studies" have only occasionally been added later so that older titles cannot generally be found in this way. The search option for "local/regional studies" for individual regions and countries (e.g. France) should therefore always be combined with a keyword search for the same term (in this case a keyword search for "France").
Ordering
Registered users can place orders and view their account via the online catalog. [More …]
Printed Catalogs
The library's card catalog – complete through 1972 – is available as a photographic reproduction in printed form:
Bibliothek des Instituts für Zeitgeschichte: Alphabetischer Katalog. Biographischer Katalog. Länderkatalog. Sachkatalog. Grundwerk und 1. Nachtrag in 18 Bänden. Boston 1967 - 1973.
The 18 volumes are available at numerous libraries in Germany and around the world.
Printed Materials Collection
Official and association printed (published by parties or associations) are collected in the archive's Printed materials collection. These holdings can be ordered using an archive loan slip.
Reading Room 1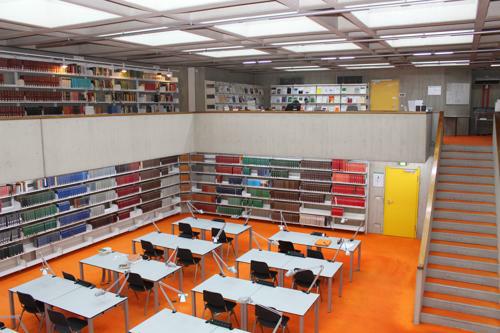 Reading Room 1 contains open stacks with around 8,900 volumes including encyclopedias, bibliographies, reference and standard works, part of the bound journal volumes, and the current journal editions. Books, newspapers, and most archival materials (except for newspaper volumes and microfilms) are provided to you there as well.
Reading Room 1 contains 24 workplaces along with a self-service check-out system, a book scanner, two PCs, and a reader-printer for microforms. Wi-Fi is provided for direct internet use with your laptop and power connections are provided.

Opening hours:
Mondays – Fridays (working days): 9am – 7pm
Tel.: +49 (0)89 12688-114
Registration
When visiting for the first time, please check in at the Information Center and come with an identity card or passport. Please bring a completed registration form or fill one in upon arrival. With it, you recognize the user regulations and immediately receive a library card that allows you to order materials and view your account via the online catalog, and makes it possible to use the self-service check-out in Reading Room 1.
Underage students, 16 years of age and older, require a registration form with a declaration of consent on the part of a parent or guardian.
Use
The archive and library are open to the public. The collections are primarily there to serve academic and research purposes.
Users include students, doctoral candidates, post-docs, researchers from both within Germany and abroad as well as journalists, schoolchildren and other individuals with an interest in the materials.

The user regulations of both the archive and library are available in the reading rooms and Information Center, or can be viewed online as well.
All holdings are to be used exclusively in the reading rooms. Taking loans off premises is not permitted. The library is part of the interlibrary loan network.

Workplaces
Reading Room 1 includes 24 workplaces with power sources and Wi-Fi, 2 PCs (chiefly for the use of digitized archive holdings and databases), and one reader-printer.
Three PCs for research purposes are available in the Information Center.