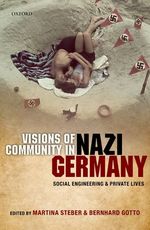 Bernhard Gotto, Martina Steber (Hrsg.)
Visions of Community in Nazi Germany. Social Engineering and Private Lives
Oxford 2014
ISBN: 978-0-19-968959-0 (order)
Über kein anderes Thema debattieren NS-Historiker in Deutschland, Großbritannien und in den USA in den letzten Jahren so kontrovers wie über die nationalsozialistische Utopie der "Volksgemeinschaft", das zentrale gesellschaftspolitische Projekt der NS-Diktatur. "Visions of Community in Nazi Germany. Social Engineering and Private Lives" bündelt einerseits diese internationale Debatte und gibt ihr andererseits eine neue Richtung.
Eindringlich kann der Sammelband zeigen, dass "Volksgemeinschaft" ein Ordnungsmodell radikaler Ungleichheit bedeutete, das denjenigen individuelles Glück verhieß, die seinen ras-sistischen, sozialen und politischen Normen folgten. Das Buch diskutiert daher die Wirkun-gen, die von der nationalsozialistischen, an der "Volksgemeinschafts"-Utopie orientierten Gesellschaftspolitik und den Aneignungspraktiken der "Volksgenossen" ausgingen. "Visions of Community" beschreibt sozialen Wandel nicht als Top-down-Prozess, sondern als dynami-sche Interaktion. Besser als mit dem Begriffspaar von Terror und Zustimmung lässt sich damit verstehen, warum sich so viele für das NS-Regime einsetzten, wie sich Rassismus und Sozialdarwinismus als soziale Diskriminierung so rasch im Alltag festsetzen konnten und mit welchen Mitteln sich die NS-Herrschaft bis in die letzten Kriegstage behaupten konnte.
Führende NS-Expertinnen und -Experten aus Großbritannien, den USA und Deutschland wie Ian Kershaw, Christopher Browning, Jane Caplan, Michael Wildt und Ulrich Herbert wirken daran mit.

---
Back to the previous page