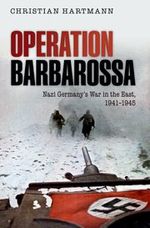 Christian Hartmann
Operation Barbarossa. Nazi Germany's war in the East: 1941-1945
Oxford 2018
ISBN: 978-0-19-870170-5 (order)
The war between Nazi Germany and Stalin's Soviet Union that raged between 1941 and 1945 was the ultimate confrontation between the two great totalitarian ideologies of the twentieth century. Unprecedented in the scale of the destruction that it wrought and the deep historical scars that it left behind, it was a gargantuan conflict in every sense of the term: in the vast territories over which it ranged, its intensity and duration, the huge numbers of people involved — and last but by no means least, the millions of victims that it claimed.
The invasion of the Soviet Union was the conflict that Hitler had always ultimately planned for: a pitiless war of conquest and destruction in which the Fuehrer dreamed of creating his 'Thousand Year Reich', destroying his ideological opponents, and enslaving or 'eliminating' whole peoples in the process. It was right from the start a struggle for survival, conducted with great bitterness and savagery by opponents who knew that defeat meant the destruction of everything they stood for.
The outcome of this bitter struggle was quite as momentous as the struggle which had preceded it. By 1945 a huge swathe of Europe between Berlin and Moscow had been reduced to a devastated wasteland in which whole societies had been erased from the face of the earth. Over 26 million Soviets and between four and five million Germans lay dead. The victory of the Red Army transformed the Soviet Union into one of the world's two superpowers. It also saw the complete destruction of Hitler's megalomaniac vision for the East, the division of the German Reich, and the Soviet domination of Eastern Europe for a generation.
In Operation Barbarossa, German military historian Christian Hartmann draws upon the latest research, enriched by a wealth of eye-witness testimony from both the Soviet and the German sides, to paint a masterly overview of these momentous four years and their human consequences - one that is both gripping, and at times deeply moving.
Published: 25 July 2013 (Hardback)
Published: 28 June 2018 (Paperback)
---
Back to the previous page