Dr. Esther-Julia Howell
Personal data
Function
Deputy Head of the Archives
---
Study
Studium: Neuere und Neueste Geschichte, Politikwissenschaft und Kommunikationswissenschaft; Archivarische Staatsprüfung
---
---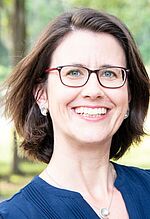 ---
---
Career

Seit 2014: stellvertretende Leiterin des Archivs des Instituts für Zeitgeschichte
2013: Projektbearbeiterin am Landesarchiv Baden-Württemberg, Stuttgart
2011-2013: Vorbereitungsdienst für den höheren Archivdienst am Hessischen Hauptstaatsarchiv Wiesbaden und an der Archivschule Marburg
2012: Promotion an der Universität Augsburg
2009-2010: Wiss. Mitarbeiterin an der Hargrett Rare Book and Manuscript Library, University of Georgia, GA, USA
2007-2009: Masterstudium der Geschichte an der Emory University, Atlanta
2001-2006: Magisterstudium an der Universität Augsburg
IfZ Publications

Other Publications

Bauen am Denkmal. Franz Halder, die Historical Division und die Legende von der "sauberen Wehrmacht", in: Jens Westemeier (Hrsg.), "So war der deutsche Landser …". Das populäre Bild der Wehrmacht, Paderborn 2019, S. 41-62.
Von den Besiegten lernen? Die kriegsgeschichtliche Kooperation der U.S. Armee und der ehemaligen Wehrmachtselite 1945-1961 (Studien zur Zeitgeschichte Bd. 90), Berlin 2016.
Quellen zur Geschichte der Neuen Frauenbewegung im Archiv des Instituts für Zeitgeschichte, in: Viertlejahrshefte für Zeitgeschichte 64 (2016), S. 365-369 (zus. mit Ute Elbracht).
Überlieferungsbildung im Verbund: Überlegungen zur Erstellung eines regionalspezifischen Dokumentationsprofils zum Thema Kommunale Abfallwirtschaft, in: Dominik Haffer (Hrsg.), "The Hitchhiker's Guide to the Archival World". Räume und Grenzen der Archivwissenschaft. Ausgewählte Transferarbeiten des 45. und 46. wissenschaftlichen Lehrgangs an der Archivschule Marburg, Marburg 2014 (Veröffentlichungen der Archivschule Marburg, 58), S. 47-77.
Schwierige Heimkehr: Die materielle, finanzielle und berufliche Situation von Heimkehrern in Lindau am Bodensee, in: Peter Fassl (Hrsg.), Beiträge zur Nachkriegsgeschichte von Bayerisch‐Schwaben 1945‐1970. Tagungsband zu den wissenschaftlichen Tagungen von 2006, 2007 und 2008 (Schriftenreihe der Bezirksheimatpflege Schwaben zur Geschichte und Kultur Bd. 2), Augsburg 2011, S. 95‐115.
A Story Worth Telling: Anthony B. Herbert's Fight for the Investigation of War Crimes in Vietnam, in: Beyond the Pages. Magazine of the University of Georgia Libraries, Vol. 11, Spring 2010, S. 13‐15.
---
Back