Prof. Dr. Frank Bajohr
Personal data
Department
Center for Holocaust Studies
---
Function
Head of the Center for Holocaust Studies
---
---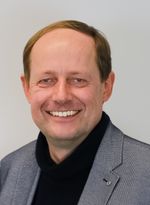 ---
---
Other

Forschungsschwerpunkte:
Geschichte des Holocaust und der NS-Zeit; Geschichte des Antisemitismus; Deutsche Zeitgeschichte; Eliten im 20. Jahrhundert; Geschichte des Tourismus
Research projects

IfZ Publications

Other Publications

Wichtigste Monographien und Sammelbände:
Bedrohung, Hoffnung, Skepsis. Vier Tagebücher des Jahres 1933, Göttingen 2013 (Herausgeber, zus. mit Beate Meyer und Joachim Szodrzynski).
Fremde Blicke auf das "Dritte Reich". Berichte ausländischer Diplomaten über Herrschaft und Gesellschaft in Deutschland 1933-1945, Göttingen 2011 (Herausgeber, zus. mit Christoph Strupp).
Hanseat und Grenzgänger. Erik Blumenfeld – eine politische Biographie, Göttingen 2010.
Volksgemeinschaft. Neue Forschungen zur Gesellschaft des Nationalsozialismus, Frankfurt am Main 2009 (Herausgeber, zus. mit Michael Wildt).
Der Holocaust als offenes Geheimnis. Die Deutschen, die NS-Führung und die Alliierten, München 2006 (zus. mit Dieter Pohl) (Japanische Ausgabe bei Gendaishokan, Tokyo 2011).
"Unser Hotel ist judenfrei". Bäder-Antisemitismus im 19. und 20. Jahrhundert, 1.-3. Aufl., Frankfurt am Main 2003.
Parvenüs und Profiteure. Korruption in der NS-Zeit, Frankfurt am Main 2001 (gleichzeitig Lizenzausgabe der Büchergilde Gutenberg, Berlin 2001) (chines. Ausgabe in Vorbereitung).
"Arisierung" in Hamburg. Die Verdrängung der jüdischen Unternehmer 1933-1945, Hamburg 1997, 2. Aufl. 1998 (engl./amerikanische Ausgabe: "Aryanisation" in Hamburg. The Economic Exclusion of Jews and the Confiscation of their Property in Nazi Germany, New York/Oxford 2002).
Norddeutschland im Nationalsozialismus, Hamburg 1993 (Herausgeber).
Zivilisation und Barbarei. Die widersprüchlichen Potentiale der Moderne. Detlev Peukert zum Gedenken, Hamburg 1991 (Herausgeber, zus. mit Werner Johe und Uwe Lohalm).
Spuren des Widerstands. Die Bergarbeiterbewegung im Dritten Reich und im Exil, München 1987 (zus. mit Detlev Peukert).
---
Back