Niels Pohl, M.A.
Personal data
Department
Center for Holocaust Studies
---
Function
Wissenschaftlicher Mitarbeiter / Doktorand
---
Study
Geschichte, Erziehungswissenschaften, Holocaust Communication and Tolerance, Jewish Studies in Berlin
---
---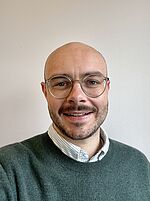 ---
---
Career

Seit Mai 2023 Doktorand am Zentrum für Holocaust-Studien am IfZ
2022-2023 Fachreferent für die Aufarbeitung des Nationalsozialismus bei der Beauftragten der Bundesregierung für Kultur und Medien (BKM)
Seit 2021 Freiberuflicher Bildungsreferent an der Gedenk- und Bildungsstätte Haus der Wannsee-Konferenz
2021 M.A. Holocaust Communication and Tolerance, Holocaust Studies/Jewish Studies, Touro College Berlin
2019-2022 Freiberuflicher Bildungsreferent am Denkmal für die ermordeten Juden Europas
2018 B.A. Geschichte und Erziehungswissenschaften, Humboldt-Universität zu Berlin
2017-2019 Wissenschaftliche Hilfskraft im Forschungsprojekt "IC-Access – Accessing Campscapes: Inclusive Strategies for Using European Conflicted Heritage", Freie Universität Berlin
2016-2019 Freiberuflicher Bildungsreferent am Jüdischen Museum Berlin
2012-2013 Freiwilliges Soziales Jahr mit der Aktion Sühnezeichen Friedensdienste an der Gedenkstätte Kamp Westerbork (NL)
Other Publications

Citizenship, the Holocaust and the Persecution of Jews with Foreign Nationalities. The Case of Italian Jew Jenni Cozzi in the Riga Ghetto, in: Sammelband zum 24th Workshop on the History and Memory of National Socialist Camps and Killing Sites: From Centre to Periphery And Beyond, 2023 (im Erscheinen).
---
Back